CETC Wuhu Diamond Aircraft Manufacture Co., Ltd
2013

CETC Wuhu Diamond Aircraft Manufacturing Co., Ltd is established.

14.1

The total investment reaches 1.4 billion RMB with the registered capital up to 1 billion RMB.

3

Diamond aircraft ranks third in global general aircraft manufacturing industry.

400

The annual production capacity reaches 400 aircrafts for two types of aircraft.
CETC Wuhu diamond Aircraft Manufacturing Co., Ltd. is founded in December 2013, located in Wuhu Aviation Industrial Park, Anhui province, and it is the state-owned high-tech enterprise engaged in research, manufacture, sales, maintenance and service of general aircrafts, other aircraft and supporting equipment. The company is jointly invested by China Electronics Technology Corporation (CETC) and Wuhu municipal government, with a total investment up to 1.2 billion RMB and registered capital of one billion RMB. The company covers an approximate area of 133.3 thousand square meters in its first phase project, and 60 thousand square meters in the office and production workshop area. As one of China's top ten military industrial enterprises, CETC is in possession of abundant strengths. Additionally, Wuhu city enjoys flourishing industrial environment and superior regional advantages. Therefore, the cooperation between CETC and Wuhu municipal government in general aviation industry will by all means drive the research , manufacture and development of aircrafts and aero-engines in Wuhu city and Anhui province, realizing the upgrade of industrial technology and boosting the development of regional high-end manufacturing industry in Wuhu city.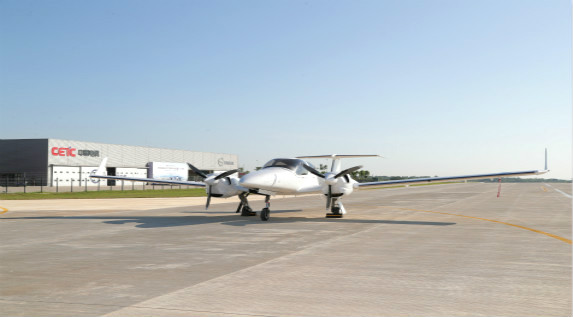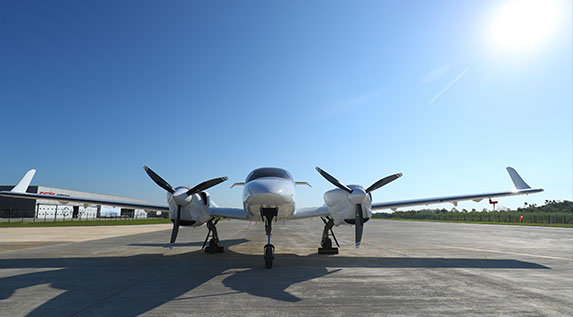 Our company has set up comprehensive technical cooperation with Austrian Diamond Aircraft Industries, introducing and producing two types of advanced, multi-purpose light general aircrafts and co-developing new types. Diamond Aircraft Industries is the sole well-known enterprise in the world that develops and produces aircrafts as well as engines, ranking the third among similar general aircraft manufacturers worldwide.
Our twin-engine, four-seater DA 42 series can be used in various fields, including aerial work, commercial flight, aviation sightseeing, flight training and personal entertainment. Besides, they are also engaged in professional operations such as aerial photography, land monitoring, surveillance and reconnaissance, and law enforcement. The DV 20, the single-engine and two-seater aircraft, can be utilized in sports and patrol, flight training, disaster response and aerial photography, and so on. It is estimated that the production capacity will reach 400 aircrafts per year after the completion of the project.
With the further implementation of relevant policies, the general aviation industry in China will see its golden age of full blossom, growing to be a strategic emerging industry in our economic development. Currently, the general aviation industry in China is in a period of preparation prior to rapid growth. Our company will endeavor to enhance the core competitiveness in the research and development, manufacture and service of general aircrafts, so as to build a world-class general aircrafts manufacturer and drive the development of general aviation industry in China.